Over all Review
The HP Pavilion DV6 is a reliable and powerful laptop featuring a Core i7-2nd generation processor, providing impressive performance for various computing tasks. With 4GB of RAM, it offers smooth multitasking capabilities, allowing you to work on multiple applications simultaneously without slowdowns.
Equipped with a 250GB HDD, this laptop provides ample storage space for your documents, media files, and software installations. The 15.6″ HD display delivers vibrant visuals and sharp details, enhancing your viewing experience whether you're watching movies, editing photos, or browsing the web.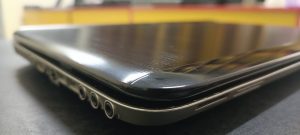 Despite being a used laptop, the HP Pavilion DV6 maintains its reliability and durability, ensuring long-term usability. Its sleek design adds a touch of sophistication, making it an appealing choice for both personal and professional use.
Numeric Keyboard
Glossy Body

Crystel Display

Slim Design

Please note that as a used product, there may be signs of wear and tear. However, rest assured that it has been thoroughly tested to meet quality standards and deliver satisfactory performance. Upgrade your computing experience with the HP Pavilion DV6, offering power, versatility, and value in one portable package.