The Dell Latitude e5470 is a reliable and durable laptop designed for business and professional use. This particular model features a 6th generation Intel Core i5 processor, providing efficient performance for everyday tasks and multitasking. With 8GB of RAM, the laptop offers smooth operation and allows for running multiple applications simultaneously without experiencing significant slowdowns.
The laptop comes equipped with a spacious 256GB solid-state drive (SSD). The SSD provides faster data access and quicker boot times compared to traditional hard drives, resulting in improved overall system responsiveness. The 256GB capacity offers ample storage space for documents, files, and multimedia content.
Featuring a 14-inch HD display, the Dell Latitude e5470 delivers crisp and clear visuals, making it suitable for various tasks such as working on spreadsheets, creating presentations, or enjoying multimedia content. The display size strikes a good balance between portability and productivity.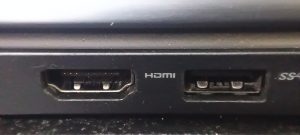 As a used laptop, it is essential to consider factors such as wear and tear and overall condition. While the specific condition of this Dell Latitude e5470 may vary, it is generally known for its sturdy build quality and reliability.
In summary, the Dell Latitude e5470 with a 6th generation Intel Core i5 processor, 8GB of RAM, 256GB SSD, and a 14-inch HD display offers a solid combination of performance and portability, making it a suitable choice for business professionals and individuals seeking a dependable laptop for their everyday computing needs.